The J.O. Cravens Memorial Scholarship Committee announced June 10 that three 2022 high school graduates will be awarded scholarships. Shayde Harris of Arkansas and Seth Gaikowski of South Dakota will receive J.O. Cravens Memorial Scholarships and Odessa Smith of Oklahoma will receive the J.O. and Mary Cravens Legacy Scholarship.
               The memorial scholarships were established in memory of lifelong rodeo cowboy, founding member and former president of the International Pro Rodeo Association (IPRA) and teacher J.O. Cravens following his death in 2018. They are awarded annually to high school graduates with strong ties to rodeo who continue their education at colleges, universities or trade schools. Judging criteria are 40% rodeo involvement; 25% scholarship, leadership and community activities; 20% financial need and 15% essay/personal narrative.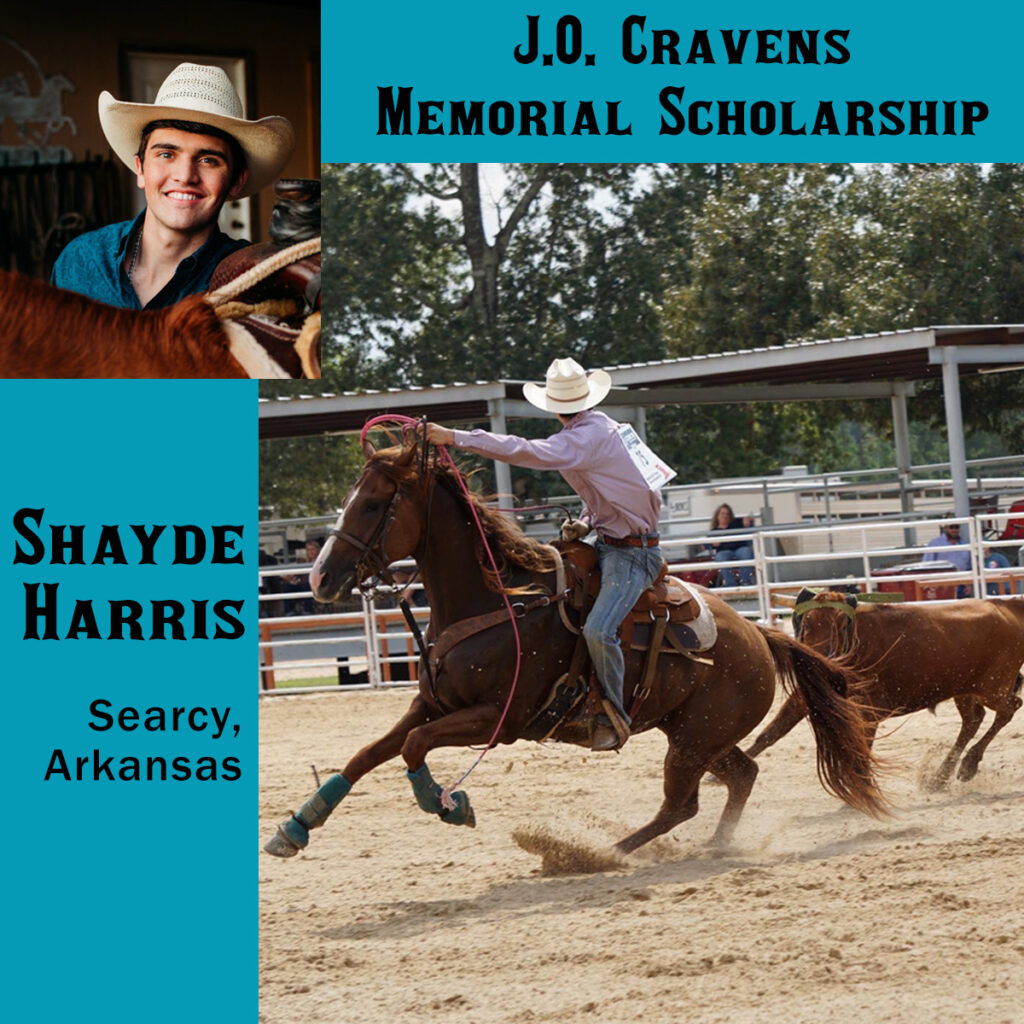 Shayde Harris, a graduate of Beebe High School from Searcy, Arkansas, will receive the $1,000 J.O. Cravens Memorial Scholarship. Harris, who competes in steer wrestling, tie-down roping and team roping, has qualified for National High School Finals Rodeo (NHSFR) or the National Junior High Finals Rodeo ( NJHFR) for the past six years. His competition accomplishments include three junior high state championships as an 8th grader; reserve state championships in multiple events and a state all-around title in 2021. He placed in the second round of steer wrestling at the 2021 NHSFR and returns to the national finals in that event this year. He has also qualified twice for the Junior American and the Junior Patriot in tie-down and team roping. His father Shawn is a former high school national champion heeler and a former IPRA world champion team roper.
             Harris served as a student officer in the Arkansas Junior High School Rodeo Association and was very active in FFA – serving as chapter president as both a junior and senior. He also was a National Bronze Medal Finalist in FFA prepared public speaking and a member of the National Honor Society. He  will attend Oklahoma State University in Stillwater, Oklahoma, where he will be major in animal science with a pre-vet emphasis. He plans to become a veterinarian and then specialize in equine surgery.
              Seth Gaikowski of Waubay, South Dakota, will receive a $1,000  J.O. Cravens Memorial Scholarship. He is currently attending farrier school and plans to attend South Dakota State University and major in agriculture business. 
Although his parents have never competed in rodeo, they supported his efforts and Gaikowski has qualified for the South Dakota High School Finals rodeo all four years. He finished 20th in the nation at the NJHFR in breakaway in 2018. He also won state 4H rodeo titles, all while riding horses he has trained since they were colts. He was NHSRA Student of the Month as a junior and was the South Dakota student director for tie down roping.
              An all-around athlete, he competed in football, basketball, golf and track along with rodeo, and was also active in band, chorus, 4H and student council. He helped lead his basketball team to the state tournament as a senior. He also volunteers as a youth coach in roping and basketball and as a youth referee.
                The $500 J.O. & Mary Cravens Legacy Scholarship is awarded periodically to a student who applies for the memorial scholarship and meets the legacy scholarship outlines of rodeo leadership, competition and lifestyle. The Cravens were both founding members of the IPRA, longtime board members of the association and qualifiers for the inaugural International Finals Rodeo. After lengthy careers in rodeo competition, they continued their rodeo involvement: J.O. as a judge and Mary as a secretary and timer. They raised two daughters while rodeoing across the country.
               Odessa Smith of Castle, Oklahoma, will receive the J.O. & Mary Cravens Legacy Scholarship this year. Her rodeo roots run deep. Her great-great grandfather John McIntire and her great-grandfather Clark McIntire both won world championships in steer roping. Her grandmother Alice McIntire Foran qualified for the International Finals Rodeo in barrel racing and her mother Garrett also is a barrel racer. Her grandfather Jim Smith was a four-time NFR steer wrestler riding the legendary horse Ol' Colt and her dad Justin also competed in steer wrestling, competing in major IPRA and PRCA rodeos. Her grandmother Delores Smith and aunt Jamie Weidel were also successful barrel racers.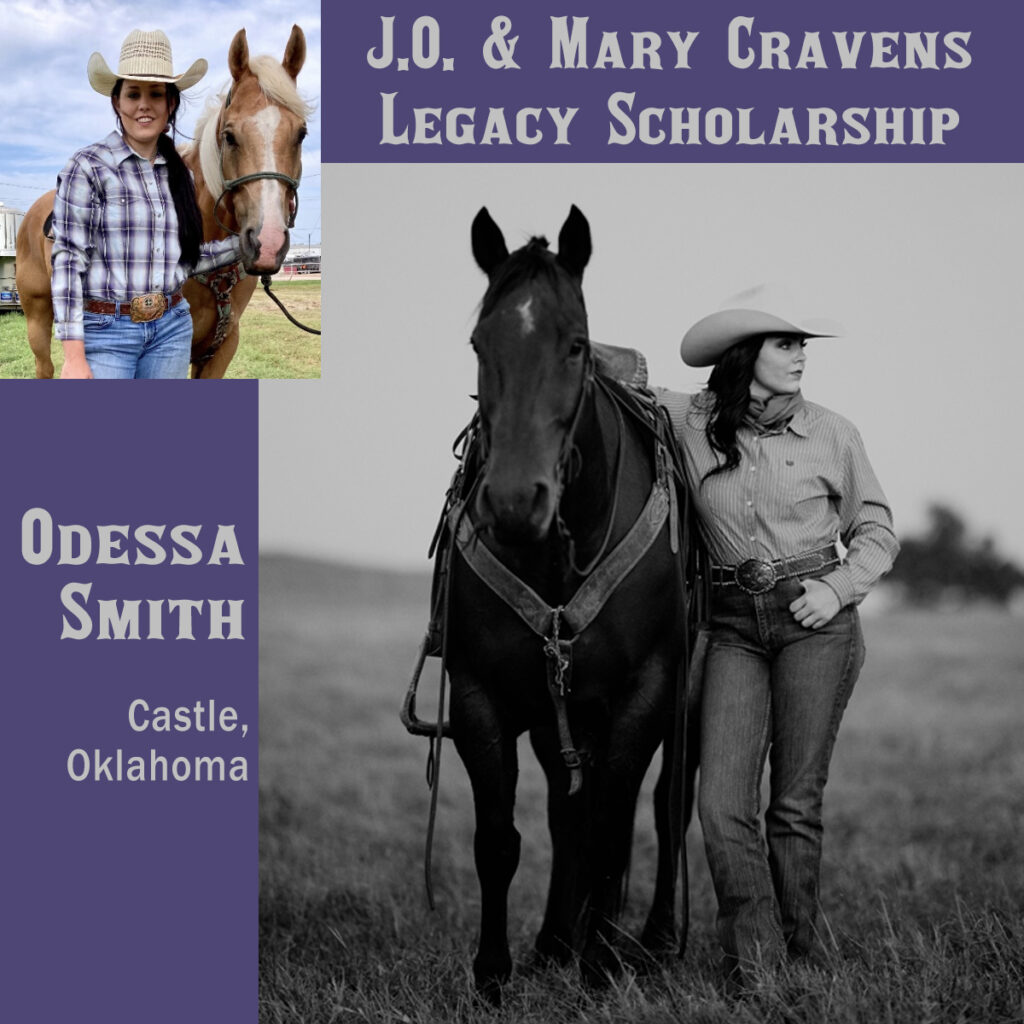 Odessa was senior class president at Mason High School, co-captain of the basketball and softball teams and active in FFA. She also competed in AAU basketball during the summer except when a knee injury in February of 2021 kept her out of action for eight months. Working for the local veterinarian set Smith on her higher education path. She plans to attend Murray State College in Tishomingo, Oklahoma, where she will be part of the rodeo team and pursue a career in veterinary pharmaceuticals.