We are saddened to report the death of our #1 supporter and all-around hand, our dad J.O. Cravens of Fittstown, Oklahoma.
He has supported our business since we started in 1986 with six Christmas card designs and one barnwood sign.
Since our mom's death in 2011, dad spent much of his time inspecting and pricing ornaments and decorations.
He's also been a big part of our booths at the National Finals Rodeo, Cheyenne Frontier Days, the State Fair of Oklahoma and the International Finals Rodeo.
He lived a full life in his 87 years. If you'd like to learn more about him, here is his obituary.
J.O. Cravens
J.O. (John) Cravens of Fittstown, Oklahoma died Thursday, September 13, 2018, in Sulphur at age 87, six months and eight days. He was born March 5, 1931, to Lawrence and Mary Inez (Brady) Cravens in Haskell, Oklahoma.
He became a resident of Ada, Oklahoma after he married Mary L. Ward on December 29, 1956, in Coalgate, Oklahoma, just before heading to the rodeo in El Paso, Texas.
At age 13 he began competing against adults in rodeos since there was no youth division in the 1940s. He rode bareback broncs and bulls for 40 years and was runner-up to his good friend and traveling partner Ben Jordan for 11 world championships in the International Rodeo Association. In 1971,  J.O. qualified for the inaugural International Finals Rodeo in bull riding while Mary qualified in barrel racing. He was a rodeo judge, serving as an official at professional and youth rodeos for decades. In the late 1960s, he was the instructor for the rodeo industry's first judges' clinic and continued to teach rodeo officials for many years.
J.O. and Mary were founding members of the International Rodeo Association (later International Professional Rodeo Association) in the early 1960s and helped write rules and bylaws that are still in effect today. He served multiple terms as bull riding director,  first, and second vice-president of the IRA in the 1960s and 1970s.
In the late 1980s and 1990s, he served as president and managing director of the IPRA, supervising major changes including moving the association's headquarters to Oklahoma City, relocating the International Finals Rodeo from Tulsa to Oklahoma City and establishing the International Finals Youth Rodeo in Shawnee.
An "oops" baby, J.O. had one sister Sybil who was 15 years older than he. He graduated from Boynton High School in 1949 where he played basketball. He was a lifelong basketball fan at all levels from high school to college to the WNBA and the NBA. Some of his best friends were basketball coaches.
After lasting just two weeks at Oklahoma A & M in the fall of 1949 when he quit to rodeo full time, J.O. returned to college at age 36 and earned a Bachelor of Science in Education from East Central University in Ada, Oklahoma in 1972. He began teaching at Sulphur High School in the fall of 1972 and continued to teach "wunnerful, wunnerful" U.S. History there for 14 years before retiring to manage the rodeo association. He and Mary lived in Sulphur until 1990 when they moved back to Pontotoc County near Fittstown.
He was proud of his military service although he could not talk about the details for decades. After two deferments because of rodeo-related injuries, J.O. started basic training at Fort Sill in 1951. Immediately after finishing basic training, he was selected for M.P. training. His unit, Company B of the Ninth Ordinance Battalion, guarded nuclear missiles in Germany when the cold war was hot. As tensions mounted, all leaves were canceled, and his company guarded the missiles that were mounted on semi-trailers in four-hour shifts in the Black Forest and in a small village. In March J.O. visited Fort Sill to see one of the few remaining "Atomic Annie" guns at the artillery museum, the first time he had seen one since he guarded them more than 60 years ago.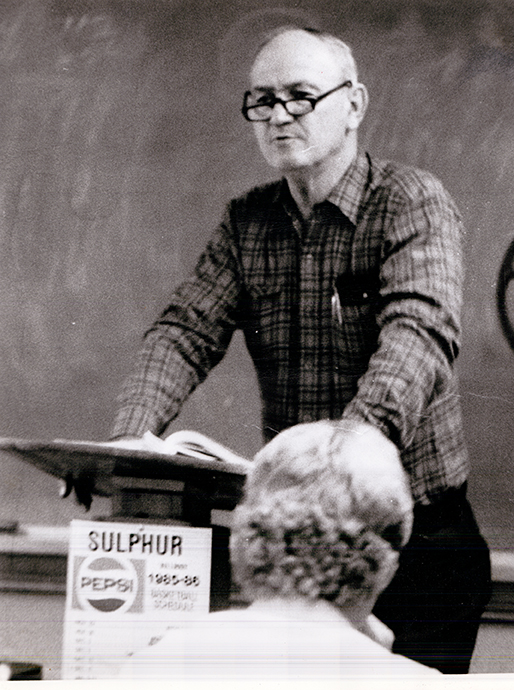 He was the antithesis of the lazy rodeo cowboy stereotype. J.O. always walked fast and arrived early. Ben Jordan said no matter how early he tried to arrive, J.O. was always there waiting on him. In the late 1990s and early 2000s, he worked for his nephew pouring concrete and working circles around men decades younger than he.
After Mary died in 2011, J.O. spent much of his time helping his daughters Johna and Dayna with their western Christmas gift business. If you shopped their booth in Las Vegas during the National Finals Rodeo, at Cheyenne Frontier Days in Wyoming, or at the International Finals Rodeo, you'd often have the chance to swap stories.
He was quick with a joke, had a wry sense of humor, could out-cuss a sailor, and valued honesty and hard work above all. He won countless trophy buckles during his rodeo career and gave many away to friends and family, especially his many nephews.
J.O. is survived by two daughters, Johna Cravens and Dayna Cravens of Fittstown; brother-in-law Vernon Ward of the home; great-niece and honorary granddaughter Mandy Smith and her daughter Laurel of Bristow; seven sisters-in-law; five brothers-in-law; many nieces and nephews and countless members of the rodeo family.
He was preceded in death by his wife Mary, parents, sister Sybil (Cravens) Harris, seven brothers-in-law and two sisters-in-law.
A celebration of life is scheduled for 2 p.m. on Wednesday, September 19, at the Lance Hartsfield Fair and Expo Center in Coalgate with interment to follow at Ward Cemetery near Cairo. In lieu of flowers, donations may be made to the J.O. Cravens Memorial IFYR Scholarship, c/o IPRA, P.O. Box 83377, Oklahoma City, OK 73148.